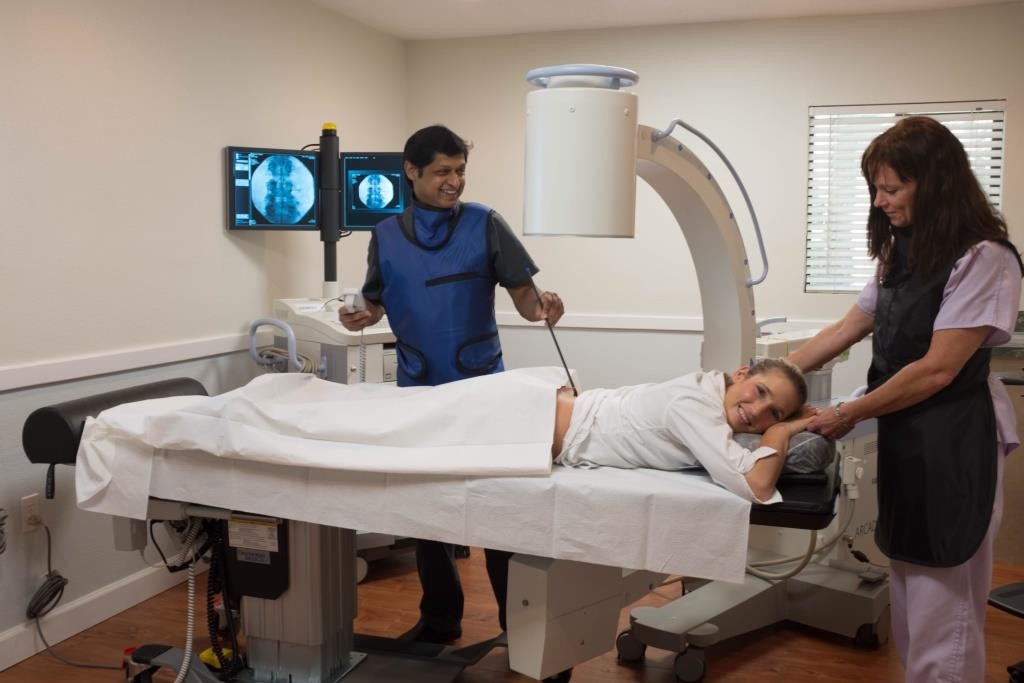 Flouroscopically guided procedures that may be indicated by the findings of your physical examination can include:
Joint Injections
Peripheral Nerve Blocks
Sacroiliac Joint Injections
Trigger Point Injections
Fluoroscopic Guided Injections
When your pain is not relieved by usual medical care, physical therapy or other conservative management – or your pain is so severe that you can't tolerate traditional care – then fluoroscopically guided injections may be the most effective and quickest way to stop the pain and start the healing process.
What is Fluoroscopy?
Fluoroscopy is an imaging technique that allows a physician to quickly and easily view the internal structure and function of a patient in moving images.
Minimally-invasive fluoroscopically guided procedures, such as epidural, sacroiliac and peripheral joint injections including PRP (Platelet Rich Plasma) Therapy and Viscosupplementation have become the standard for treating many disorders, especially before considering any type of surgery. Frequently, they help prevent a condition from progressing onto a surgical situation.
These fluoroscopi-guided procedures are performed in our state-of-the-art fluoroscopy suite, where we can provide expert and personal care to our patients in the comfort and convenience of our office.
We customize each injection to meet our patients' individual needs.
With these brief procedures we provide local anesthetic to numb the skin before using a fluoroscope to precisely guide a needle and inject medicine to reduce your inflammation. We may ask you to relax on the day of the procedure, but you may typically resume normal daily activities the day after the injection.
Strive!
Pain & Spine Center
2626 SE Maricamp Rd
Ocala, FL 34471