Dr. Catherine Christenson, APRN, FNP-BC, DNP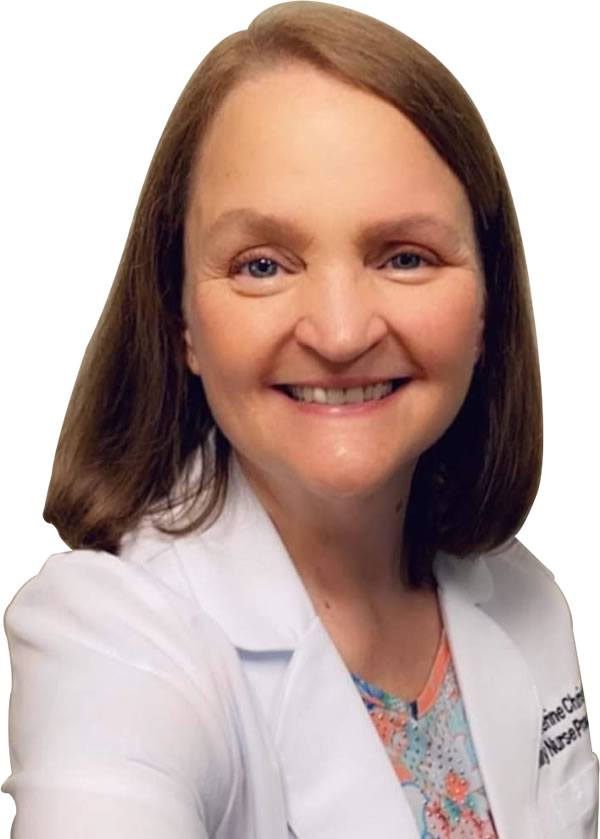 Family Nurse Practitioner
Credentials
1983 – Licensed Practical Nurse, Tewksbury Hospital
1986 – Registered Nurse, New Hampshire Tech Institute
2006 – Bachelor of Arts, University of West Florida
2010 – Master of Science in Nursing, Liberty University
2011 – FNP, University of Massachusetts, Boston
2015 – Doctor of Nursing Practice, Chatham University
Experience
Strong foundation in Orthopedics & Regenerative Medicine (PRP – Platelet Rich Plasma)
Family Practice and House Call Medicine as a family nurse practitioner
RN experience in ICU, ER, and Inpatient Rehabilitation
Specialized training in joint, muscle & nerve injections using ultrasound or fluoroscopy
Additional training in alternative and physical medicine
Hobbies and Personal Interests
Spoiling my grandchildren, Logan and Juniper
Spending time swimming and visiting with family
Play piano or read a good novel
My Goal
My goal is to relieve your pain, promote wellness, educate patients, and prevent surgery whenever possible. By accurately diagnosing and treating the root cause of the physical problem, my patients experience excellent outcomes. I would love to help you too!
VIDEO: Watch this brief video introduction to Dr. Christenson
Chiropractic Physician
Dr. Louise Bullard is a Chiropractic Physician that grew up in the Central Florida area.  She now lives in Ocala with her husband and two kids.  She received her undergraduate degree from the University of Florida.  She then decided to pursue her dream of becoming a chiropractic physician that could help people without the use of drugs or surgery.  She was involved in a motor vehicle accident as a teenager and sought treatment everywhere for her pain; nothing helped until she started getting chiropractic treatments.  This was when she knew that she wanted to become a Chiropractor.  She started getting adjusted as a teenager and has seen miracles ever since.  She strives every day to help people with chiropractic care the same way that she herself has been helped.  She received her doctorate at Palmer College of Chiropractic, in Port Orange, FL.  While at Palmer, Dr. Bullard studied many chiropractic techniques, but was most interested in techniques that restore the spine's natural curves.  She focuses on corrective care that will allow her patients to function at 100% of their capacity.   She traveled to the Dominican Republic in 2014 and then again in 2015 to serve on mission trips providing chiropractic adjustments.  Dr. Bullard is dedicated to improving her patient's health.